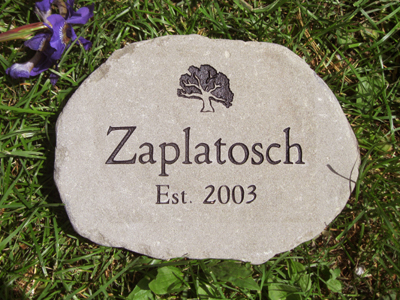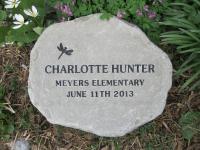 Out of stock - call for availability - $99.00 - Free Shipping
Our garden stone product is 12-13 inches across and 2 inches thick. They come with up to three lines of text and a graphic. The garden stones are made from bluestone but have a more tan/brown color of bluestone than our regular product. They also have more of a rounded bottom than our regular stones and are more irregular in shape.
Received the rock for Carol today and we LOVED it! I think she will be so pleased. We appreciate your "fine" work on the rock and your not "nickel and diming" us for everything on the rock, incl. shipping. We will definitely recommend you to anyone that is looking for a personalized garden or memorial rock. Blessing and regards as well. Have a wonderful summer! Gail and Denny
Hi Jeremy,
We are all THRILLED with the stone that was delivered early today. It was perfectly engraved and the stone itself is beautiful! If you ever have an occasion to visit Westbury in Long Island, we would love for you to visit our "Adopt-A-Trail" that we've constructed on the school grounds. That's where the stone will be located. I am going to spread your e-mail site around and hopefully you'll get other business. I can certainly personally recommend you.
Thanks again.
Susan
I received my memorial stone today that I had made in memory of my father. I was very impressed by the quality of the stone and the engraving. Thank you so much for offering such a beautiful piece at a reasonable price. I will be sure to treasure this stone in my memorial garden for years to come.
Thanks again,
Jill
I was just wanting to compliment you. I recently ordered an engraved stone as a wedding gift from your company and I love it. The quality is wonderful. I will be proud to give this as a gift. It looks just like they do online and better. I got a medium stone and it is actually a little larger than I had expected, which was great. I had shopped around online and this was by far the best value. Thank you so much!!!
Jeremy & Tavia,
Wanted to send an email and tell you that the Garden Stone I ordered a few weeks ago looks great. I got it for my 10 year old daughter who wanted to have her own flower garden this year in which she picked all of the plantings. I was amazed how quickly we got the stone, and it looks super. My daughter was very excited.
I order a lot from the Internet, but had never bought anything from Adirondack Stone Works before. So you're always a little apprehensive dealing with the unknown! I will certainly buy again and recommend to our friends.
Thanks for the great service and product.
Steve
Your website delivered exactly what it offered. The stones I ordered came out exactly as I hoped and they were delivered in just days. The prices can't be beat. I will recommend your company for anyone who is need of a perosnalized gift.
I received the stone yesterday! It's wonderful. The teacher passed away this Tuesday and the students are planting a garden outside her classroom window. Thank you so much for getting the stone to us. The garden wouldn't be complete without it.
Jessica
I just wanted to say that the stone you made for me, which was my present for my father for Father's Day, came out beautiful!! It came in the mail yesterday and I went over to his house to give it to him and he put it right in the garden. I would highly recommend you to any of my friends/family. Thank you!! (:
Jeremy and Tavia, What a thrill I had when I came home from vacation in the Adirondacks and found my garden rock! It is all that I imagined and more! The way the lily was sitting on the book was a great touch. I took a picture of the rock in my garden and sent the picture in the thank you notes to the group who got it for me. Thank you for the beautiful workmanship, as well as the prompt mailing. I appreciate it very much! Anne
Tavia,
I didn't get a chance to see the stone since I live in GA and it has a new home in the Hamptons. However I wanted to let you know that my Aunt and Uncle think it is amazing. My mother, who is vacationing with them, called me up to tell me how impressed she was with its beauty. I was impressed with how reasonable your prices are. I found them to be less than 1/2 the price of other sites! Thank you so much for such a unique and wonderful gift! It couldn't have been better. Joni
P.S. Feel free to use this as a testimonial if you would like. I really meant everything I said.
Good morning,
I recently placed an order with you for a large stone engraved with a special message for my Grandma, who passed away in 2008. Yesterday, I received the stone and it is beautiful. I put it in my garden right away. The quality is excellent. Thank you very much. Katie
Thank you so much for the excellent customer service and labor of love that was evident in the quality of the workmanship reflected in the Memorial Garden Stone I recently ordered and received. It was perfect...perfect size, perfect lettering and delivered with perfect timing! Very, very pleased.
Hi Emily,
I got the stone today and I needed to write and tell you that it is absolutely beautiful. Thank you so much! I cant wait to give it to my cousin and his wife. Ill send a picture of it in the garden! Thank you!!!!!!!!
Tavia,
Sorry for the delay in sending this, but I just wanted to say thank you. The person we purchased this first was stunned and overwhelmed she loves it so much. Thank you again for the lovely job and excellent communication. I will definitely keep you in mind if I ever need anything else.
Tonya
I wanted to follow up and let you know the two stones that we ordered were just beautiful! They were everything you described and all of us were so happy to give them as such meaningful gifts. The two sisters were quite emotional and we know they are going to be treasured for a long time. I will absolutely consider your company for other gifts! Also, it was a pleasure working with you – the time you took to walk me through everything and sending along the 'samples' was so helpful. Thank you again.
My Best,
Georgia
The Stone for Nila's Garden just arrived. It's perfect! We will send you a photo of it after it's installed in the garden. Thanks to Emily for her help. We couldn't be more pleased. Peggy Hollowell
Good Evening,
I wanted to be sure to immediately thank you for the most perfect, amazing garden stone! The finished product exceeds any expectations I had in mind. I think I may have selected more text than would normally fit on the stone I selected (I selected stone big enough for three lines) and instead the stone has the text I selected on 5 lines with the graphic I selected. The words are arranged perfectly and the entire product is just absolutely beautiful. Thank you so much! Your turnaround time is incredible - my stone arrived 2 days before I anticipated it would. I simply can't sing your praises enough. Thank you for a gift that I know my mentor will cherish forever.
Sincerely, Courtney